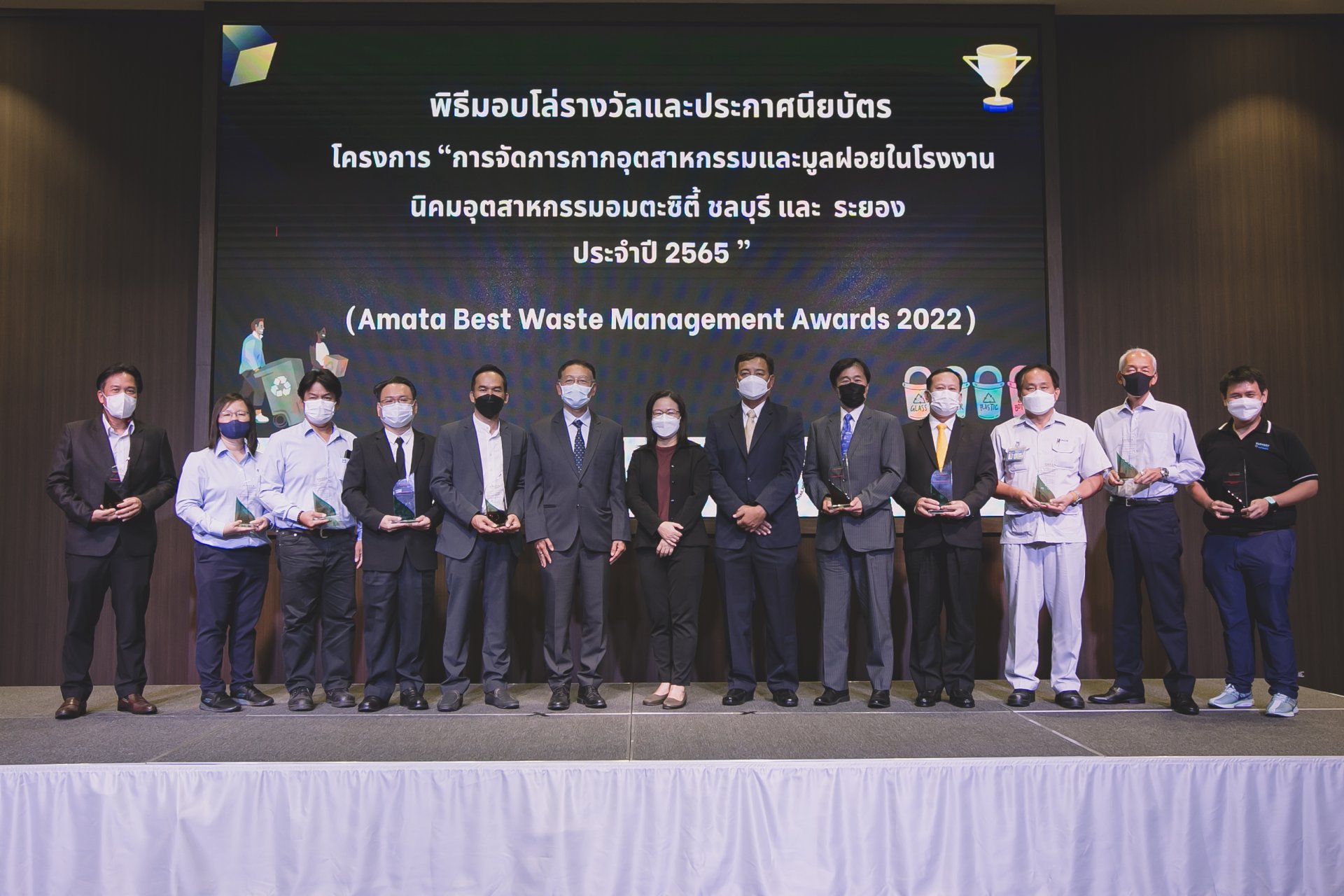 On December 8, 2022, AMATA Facility Services Company (AFS), an affiliate of AMATA Corporation managing common areas of the AMATA industrial cities including, safety, security, traffic, green area and solid waste, held the 'AMATA Best Waste Management Awards 2022' ceremony at Hotel Nikko AMATA City Chonburi.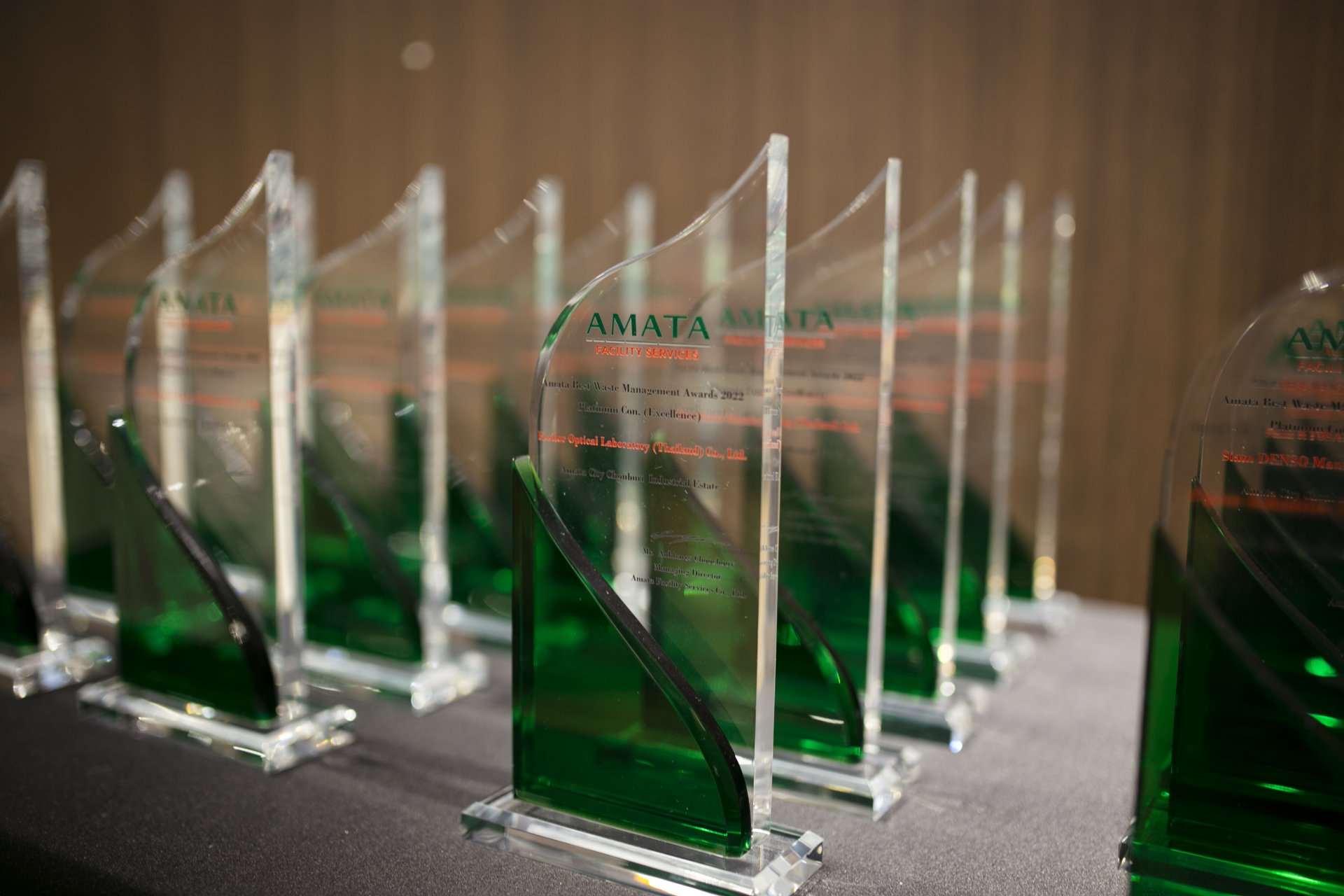 The event was presided over by Mr. Aukkares Choochouy, AFS Managing Director and Ms. Witchuda Seemakacharon and Mr. Sermpong Sukkho, Branch Directors of the Industrial Estate Authority of Thailand (IEAT) Offices at Amata City Chonburi and Amata City Rayong industrial estates, respectively.

Established in 2014, the annual waste management awards are organized in collaboration with IEAT to encourage proper waste management within factories, in particular the separation of solid and wet waste and to promote recycling at plants in accordance with the '3R' principles, to reduce consumption, reuse and recycle resources more effectively and efficiently.
During the 2022 awards ceremony, a total of 81 manufacturers were recognized with awards given in three categories: silver, gold and platinum, whereof platinum is the highest level achievable with companies recognized in this rank adhere to laws, being certified with environmental industry standards and actively campaign to reduce solid waste to landfill.
AMATA is delighted to see that in 2022, most of the participating companies achieved platinum rank certification. Congratulations to the participating companies and winners in each category. Our heartfelt congratulations to the 'Platinum' Winners as following:

AGC Techno Glass (Thailand) Co., Ltd.

Aisin Takaoka Foundry Bangpakong Co., Ltd.

BASF (Thai) Ltd.

Denso (Thailand) Co., Ltd.

Denso Electronics (Thailand) Co., Ltd.

DIC Graphics (Thailand) Co., Ltd.

Essilor Optical Laboratory (Thailand) Co., Ltd.

Hino Motors Manufacturing (Thailand) Ltd.

Hitachi Astemo Chonburi Powertrain Ltd.

International Casting Products Co., Ltd. (plant 1 and plant 2)

Kao Industrial (Thailand) Co., Ltd.

Mitsubishi Electric Consumer Products (Thailand) Co., Ltd. (branch 1 and head office)

Nestle (Thai) Ltd

Pigeon Industries (Thailand) Co., Ltd.

Siam DENSO Manufacturing Co., Ltd.

SIAM KUBOTA Corporation Co., Ltd.

Siam KYOSAN DENSO Co., Ltd.

Somboon Forging Technology Co., Ltd.

Somboon Malleable Iron Industrial Co., Ltd.

Sony Technology (Thailand) Co., Ltd.

Sumitomo Rubber (Thailand) Co., Ltd.

Suntory PepsiCo Beverage (Thailand) Co., Ltd. (Rayong plant)

Thai Daizo Aerosol Co., Ltd.

Thai Matto NS Co., Ltd.

TOACS (THAILAND) Co., Ltd.

Tokai Rika (Thailand) Co., Ltd.

Toyota Boshoku Siam Metal Co., Ltd.

Tsuchiya (Thailand) Co., Ltd.

UACJ (Thailand) Co., Ltd.

Yokohama Tire Manufacturing (Thailand) Co., Ltd.



Reference from Amata Business news