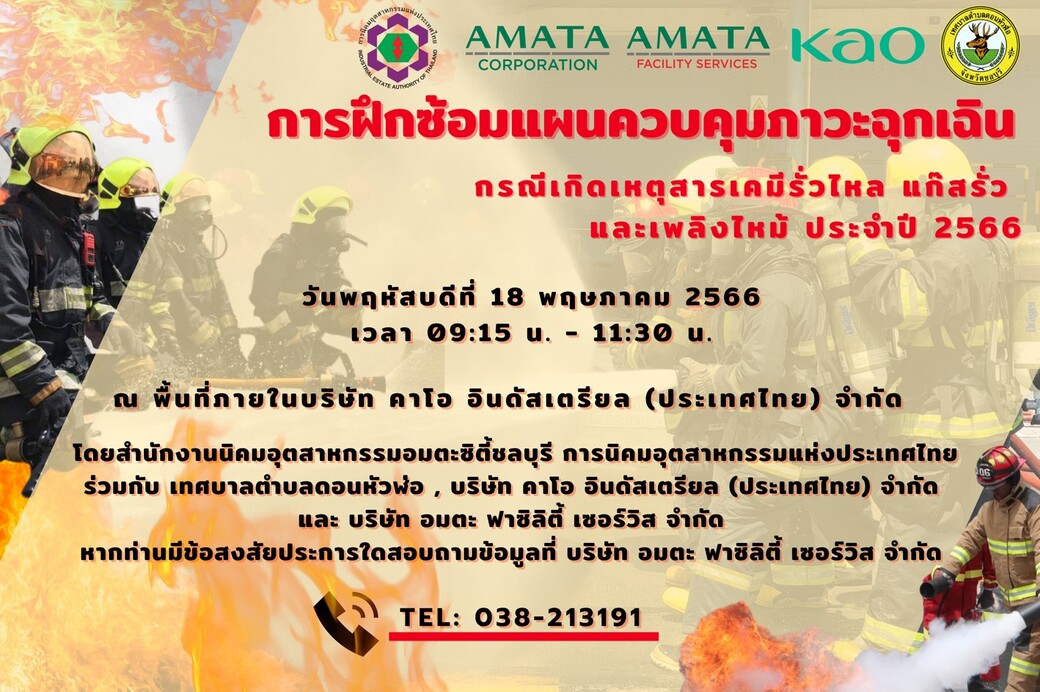 Amata Facility Services Co., Ltd. has scheduled emergency drills and exercises for the Amata City Chonburi Industrial Estate for the year 2023. Emergency drills and exercises will take place on May 18, 2023, from 9:15 am to 11:30 am at the Kao Industrial (Thailand) Co., Ltd. inside Amata City Chonburi Industrial Estate.

In order to rehearsal the plan, please note that there will be emergency signals from ambulances and fire engines, between 10:00 to 11:00 am, Therefore some traffic lanes will be restricted for car users.

Please avoids the traffic path as follows:

• Road Closures, From the entrance of 18 Alley to 18/1 Alley between the front of Kao, closure in both lanes.
• Road Closures from 10:00 a.m. – 11:30 a.m. Customers should arrive at the designated area prior to the specified time.
• Car users may use opposite lane in front of Mitsui Electric Co., Ltd., road (limited to one way lane)
• Car users from Colgate company may avoid these specific road closures. Please use the road of 16 Alley along the canal in order to reduce traffic congestion.

For more information, please contact us on 038-213191 (24 hours)

We hereby apologize for any inconvenience caused.